Comfortable Accommodations

Your cottage overlooks and is close to the lake and offers you a spectacular sunset each evening. You'll find everything you need, as your cottage comes fully equipped. Each includes a fully equipped kitchen with gas cook stove, oven/broiler, utensils, pots, pans, coffee pot, etc. and full size refrigerator.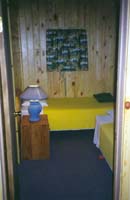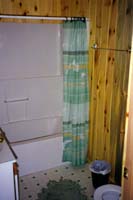 We offer you spacious and immaculate 2, 3, and 4 bedrooms complete with 4 piece bath. Larger cottages have an additional bathroom. We can sleep you, and up to 11 of your friends in their own beds in the same cottage. With all of the modern conveniences, you'll always have enough hot water no matter how large your group may be. Comfortable hotel/motel box springs and mattresses. All fresh linens, pillows and blankets are furnished. We supply complimentary beverages in your fridge, coffee in your cabin, fruit bowl. As well, daily maid service and towel change daily.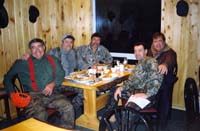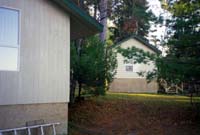 Meals are mouth watering, healthy served out of one of the cleanest kitchens you'll find in north woods. Accommodations and meals in the wilderness are just as important in helping you relax and enjoy Canadian Hunting trip on the lake of the woods. After harvesting your trophy whitetail deer. Why not partake in some other great action our lodge can offer, such as. Canada's finest water fowl for a large variety of ducks and geese. Upland game including grouse, and all based out of our great hunting lodge. After a great day on the lake or in the north woods, good rest and meals are indeed a help. We have built a world class sauna, a traditional Finnish wood fired and it has been a great place to relax after your evening meal.

Finest Northwood Dining

Great Country Cooking and Fun Times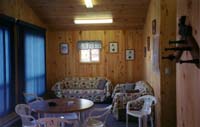 Our main lodge/dining room is A gathering place for our guests. A portion of the lodge is the first original log building. This served as both office and home for the founders of Lecuyer's. Beautiful handcrafted, it stands as a testament of both the hard work and the quality that in part, has earned Lecuyer's Canada Lodge an established reputation of hospitality. You'll find many fine exhibits of wildlife mounts, old documents and artifacts from the 30's, 40's, 50's and the 60's. A very cozy, warm and friendly place overlooking Sabaskong Bay.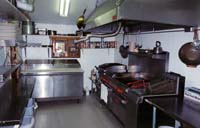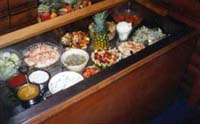 Your meals are prepared by our chef, who'll create very tasteful and unique north woods cuisine, using only the finest well aged beef, grade A turkeys and chickens and the freshest fruits and vegetables. You'll also enjoy our very own fresh baked breads, buns, pies and fresh salad. Mouth watering meals to be sure! Quite simply, the finest foods in the north woods, in both quality and portions.

You can also enjoy your favorite team on our 2 big screen stereo television via satellite. Enjoy a game of darts. Have a cold glass of cheer and pizza while listening to a tall tale or tell a few tall tales of your own.

AMERICAN PLAN MENU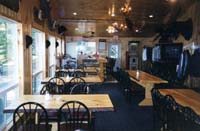 In a good majority of camps, lodges and outposts you and your group are feed like cattle! Having little options on your own meal time schedule. They allow 1 hour only for you to eat. Now, I don't know about you. But I don't like rushing out of bed on my fishing & hunting vacation so I would not miss out on my meal. Or how about leaving out to late in the morning not to be in your stand with plenty of time for the woods to quite, or having to be in early and rush back from a prime fishing or hunting location. That will not happen here as we ourselves are big game hunters and fisherman.... we know the difference time can make to harvesting that special trophy and being on that hot fishing spot! Because we care, we cook our hunters meals around their hunting, and provide a full 2.5 hours for breakfast and dinners to our fisherman friends.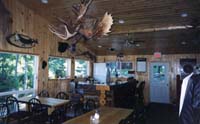 Here at Lecuyer's Canada Lodge we believe in quality. All our foods are made from scratch, meats fresh butchered cut (except turkeys and chickens) you'll find no steam table here! We want your stay to be relaxing and you not worried about tight meal schedules. So, knowing you'll want to hunt early or late we have provided a very liberal meal schedule for both breakfast and dinner. Making sure your in the field early as well as being able to hunt later.


BREAKFAST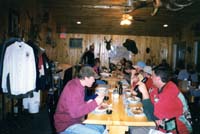 Again, unique here at Lecuyer's there is no set breakfast for you of one, two or even three choices. NO steam table food!! Instead, you order off a full open menu, anything and as much as you want. Including all juices, tea's, coffee, milk, pop's etc. Food, as much as you want, cooked to order, hot off the grill onto warmed plates. Now, that's the way Grammy use to cook, the way it should be and the way we prepare it every day!

LUNCH
Fresh made sandwiches, including fresh homemade cookies soft drinks and coffee.

DINNER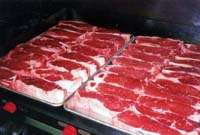 Starting off with a couple of complementary dinner cocktails. Enjoying our fine salad bar complete with fresh baked breads and buns. Then enjoying one of the finest meals found anywhere

* Grilled Pork Chop
* Momemade Pizza
* New York Steak
* Turkey dinner with all the fix'n
* Chicken Breast
* Italian night ( chefs choice )
* Baby Back Ribs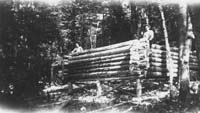 Fresh deserts made daily including seconds. Remember, all coffee, tea, juices, milk and pop's are always complementary at the very beautiful Lecuyer's Canada Lodge.

Lecuyer's .... Specializing in all inclusive package plans, for sportsmen, families and corporate groups. Outstanding accommodations, meals, equipment and service. A family built, owned and operated resort since 1946.